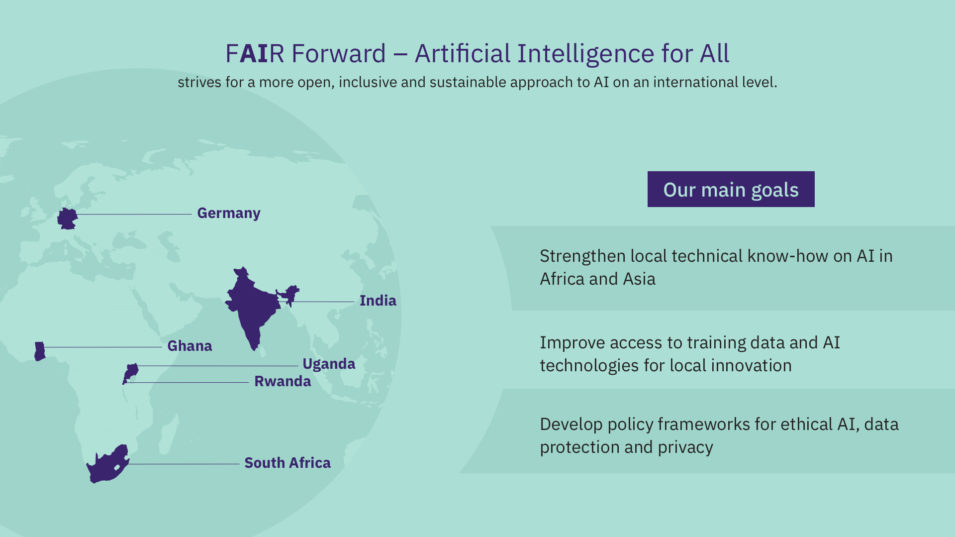 At a glance
Artificial Intelligence (AI) is a key technology driving the global digital revolution. AI refers to computer programs that process information autonomously, identify connections between data points, make decisions, and are able to learn and adapt while doing so. For example, AI applications are developed and trained with large datasets in order to automatically recognize and translate languages or predict future trends in areas such as climate or health. Frontrunner companies and institutions already deploy AI applications at scale to improve business practices, administration, environmental protection or health services.  
AI also offers a range of new opportunities to low and middle-income countries. It can break down existing barriers to human development and social inclusion, and help to achieve the global Sustainable Development Goals. For instance, AI-powered apps already support local farmers in Tunisia and India to detect diseases in agriculture in real time. AI also offers digital entrepreneurs new tools to build innovative products.  
However, without the necessary capacity, technology and data to train AI, low and middle-income countries may miss out on the immense opportunities AI has to offer. In addition, existing policy frameworks in many countries need to be updated to reflect the development of AI technologies. 
FAIR Forward –

 

Artificial

 Intelligence for All

 
The German Development Cooperation initiative "FAIR Forward – Artificial Intelligence for All" strives for a more open, inclusive and sustainable approach to AI on an international level. To achieve this, we are working together with five partner countries: Ghana, Rwanda, South Africa, Uganda and India. Together, we pursue three main goals: 
FAIR Forward supports digital learning and training for the development and use of AI, and fosters cooperation with German and European research institutions and businesses.
FAIR Forward facilitates the provision of open, non-discriminatory and inclusive training data and open–source AI applications for local innovation. Open access to African and Asian language data is a key priority to enable the development of AI-based voice interaction in local languages to empower marginalized groups.
FAIR Forward advocates for ethical AI that is rooted in human rights, international norms such as accountability, transparency of decision-making and privacy, and draws on European experiences such as the EU General Data Protection Regulation (GDPR). Therefore, we support the development of effective political and regulatory frameworks in Africa and Asia.
Current Status
The project was launched at the Internet Governance Forum (IGF 2019) in November 2019. It builds on existing BMZ initiatives including the Centres for Digital Transformation of the BMZ in Africa, a collaboration with the innovation lab of the United Nations "UN Global Pulse", a project for voice data collection for African languages with Mozilla, the tech entrepreneurship initiative Make-IT and the e-learning platform Africa Cloud.  
Africa AI Accelerator:FAIR Forward promotes local AI and machine learning innovations in its African partner countries. Together with the tech entrepreneurship initiative "Make-IT in Africa", innovation experts of the Ghana Tech Lab and IBM, the programme virtually and physically supports AI start-ups from Ghana, South Africa, Rwanda and Uganda. Overall, eleven start-ups receive advice on improving their technical product and business development as well as team processes along clearly measurable goals. 
AI Blueprint with Smart Africa:
Smart Africa develops a Pan-African AI policy blueprint with the support of FAIR Forward. SmartAfrica is a Pan-African digitalisation initiative with 30 member countries and has been a long-term partner of the German Federal Ministry for Economic Cooperation and Development. The AI blueprint is developed in a multi–stakeholder process including Smart Africa member countries, civil society and businesses. The process is championed by the Government of South Africa. 

Expansion of AI training data in the Global South – Lacuna Fund:
In supporting Lacuna Fund, FAIR Forward is part of the first global collaborative effort that addresses the shortage of AI training data in emerging and developing countries. Thereby, the potential of AI can also be unlocked in the Global South. The work of Lacuna Fund creates representative, problem-specific and current data in the Global South. For this purpose, we work closely with The Rockefeller Foundation, Google.org and Canada's International Development Research Centre. FAIR Forward supports Lacuna Fund especially in the area of African language data.
Open Voice Technology in Local Languages:
Together with local partners in Rwanda and the browser company Mozilla, FAIR Forward contributes to the development of open AI training datasets in Kinyarwanda – the local language in Rwanda. The collection of open voice data also strengthens the local ecosystem for the development of related technologies and products such as voice assistants. FAIR Forward aims at creating more training datasets for additional African and Asian languages like Luganda in Uganda and making them openly available for local AI innovators. 
Supporting AI Policy Frameworks in Ghana:
FAIR Forward is partnering with UN Global Pulse (UNGP) on the development of AI policy frameworks in the Global South. UNGP is an innovation initiative of the United Nations and aims at harnessing AI for sustainable development. Through a multi-stakeholder process, UNGP supports the development of an ethical AI policy framework in Ghana and of local data architecture in Uganda.